Cover 3 Invitational Golf Classic
Thank you so much for your donation to PFC through the Cover 3 Golf Tournament and Par-Tee for PFC. This was the most successful tournament to date, and we have you to thank!  The money raised through the Par-Tee for PFC and the Cover 3 Golf Classic goes directly to support the program of PFC. We are so thankful to Cover 3, our sponsors, donors, committee members, and volunteers who worked so hard to make this event a success. 
Partnerships for Children is a non-profit organization that provides critical resources to children in the Central Texas area who are in the care of Child Protective Services. We work to bridge the gap between limited government resources and the critical needs in our community through 5 core programs: the Rainbow Room, Holiday Wishes, The Heart Gallery of Central Texas, YES Mentoring, and Kids In a New Groove. These programs depend solely on the generosity of people like you. We appreciate your willingness to make a difference in the lives of children who need extra support. 
Katie Young
Director of Development
Mark your calendars for October 2023 and join the FUNdraising!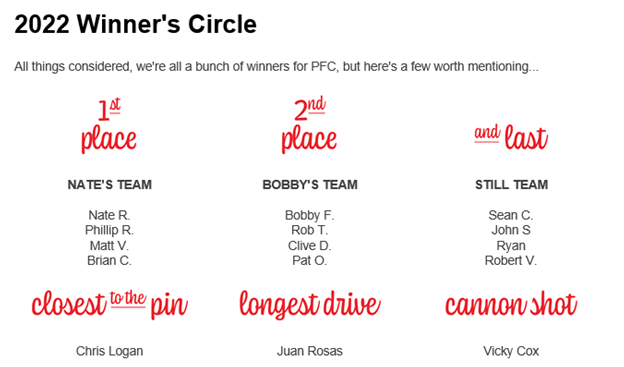 The Cover3 Golf Classic is the largest fundraiser benefiting Partnerships for Children (PFC), drawing nearly 200 golfers every year from around Central Texas to support the child and families connected to CPS who are served by PFC and our 5 core programs. The tournament will take place in October and has been hosted at the Avery Ranch Golf Course for the last 2 years.
The tournament was founded by Cover3 owners Doug & Katie Young, who shared a passion for outstanding food, exceptional service, and a pure love for supporting children in the Texas Foster Care System.
The tournament features a PAR-TEE, a virtual silent auction, a Golf Cart Raffle, and a full day of golf!
Since its inception, the Cover3 Golf Classic has raised more than a million dollars. The success of the tournament has contributed significantly to PFC's capacity to provide support and resource services to children and families in the Central Texas community who are connected to CPS.
For more information, please visit: Cover3 Golf Classic.
We are grateful to the Cover3 Golf Classic Sponsors: